Join Across The Pond Veterans Park ~ Become A Member
Membership Application
Join Us, Make this Veterans Park Happen
Across The Pond Veterans Park work-group has developed a projected budget to description and Phase 1 of the work. Several developments make these targeted figures for outright purchase of the work; several actions will continue to off-set expenses as the development of the Project continues.
The project-group has found that several costly construction services are thought to be able to be accomplished thru the generous work of local contractors and builders offering services. In addition, a small bank account currently exists thru early unsolicited donations.
DONATE
Cash donation will increase by active fund-raising events already scheduled. To this end, a financial work-group will be sought to work solely on the funding and fund-raising aspect of financing the project. General grant applications, as well as specific Veterans-focused grants will be sought by personel experienced in that work. General business solicitation has also begun. We believe area/regional support is strong.
Membership fees: Yearly single $35.00. Lifetime membership (couple) $300.00.
Receive the gift of a signed George Skypeck Military Heritage Commemoration Poster with a donation. $150 donation gets you a signed poster, $25 donation gets you an unsigned poster
THANK YOU SO MUCH FOR BECOMING A MEMBER!
Across The Pond Veterans Park, Inc. is a Public Charity exempt from Federal Income tax under Internal Revenue Code (IRC) Section 501(3)(c). No goods or benefits have been exchanged for this contribution. You are able to deduct your contribution under IRC Section 170, using a copy of this form.
Mail To:
Across the Pond Veterans Park
PO Box 31, Iron River, WI 54847.
Military Historical Artist Poster Available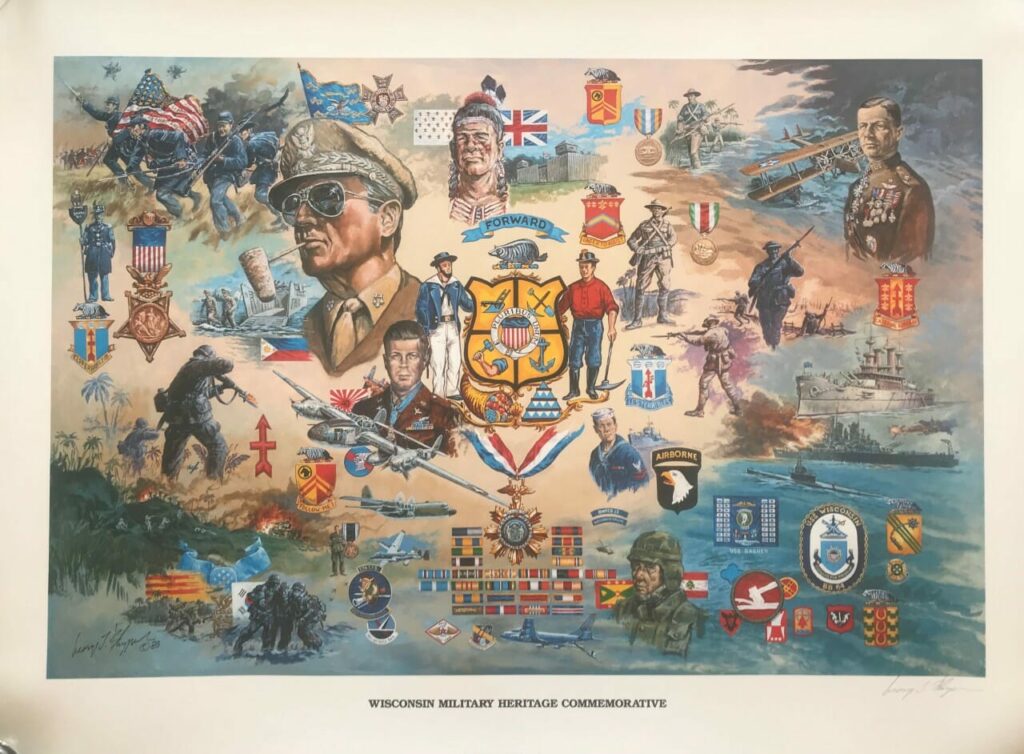 GEORGE L. SKYPECK
I was that which others did not want to be.
I went where others feared to go, and did what others failed to do.
I asked nothing from those who gave nothing, and reluctantly accepted the thought of eternal loneliness … should I fail.
I have seen the face of terror; felt the stinging cold of fear; and enjoyed the sweet taste of a moment's love.
I have cried, pained, and hoped … but most of all, I have lived times others would say were best forgotten.
At least someday I will be able to say that I was proud of what I was … a soldier.
GEORGE L. SKYPECK, Reg. TM, COPYRIGHT, ALL RIGHTS RESERVED, USED WITH PERMISSION OF MR. SKYPECK
George Skypeck, one of America's most prominent military historical commemorative artists, has donated copies of his famous poster: Wisconsin Military Heritage Commemorative, printed in 1988, to Across The Pond Veterans Park to be sold as a fundraiser for the Park. His famous poem, "SOLDIER", is also available with the poster.
$150.00 donation for a signed copy
$25.00 donation for an unsigned copy
The poster is 34″ by 25″, suitable for framing.