Saturday, May 29
Special Events At Across The Pond Veterans Park
Come on out to the park and recognize, commemorate, and thank Veterans for their service to our country. Then, if you wish, join in an afternoon picnic hosted at the park by ATPVP volunteers. Dress for the weather and please bring a portable chair — our new park does not yet have places for folks to sit.
Here's what's up starting at 1:00 p.m.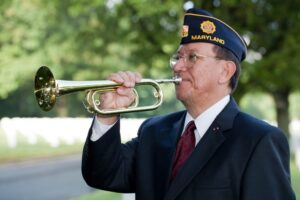 "Reveille," played by trumpeter Howard Layman
Greetings with Ray Kangas, Chairman of the ATPVP Board of Directors
Keynote speech with Kevin Johnson, Bayfield County Veteran Service Officer
Open mic, hosted by Ray Kangas
Commemorations. Each person whose name appears on the ATPVP Honor Wall will be individually recognized by the call of his or her name, followed by one ring of the park's big brass bell and a few moments of silence,
Gun salute, performed by the ATPVP color guard
Closing with "Taps," played by Howard Frostman
Food and fellowship, picnic-style, at the Park. There will be hamburgers, brats, chips, baked beans, and a beverage. Donations for the food will be appreciated.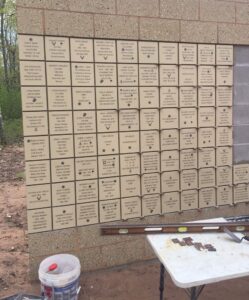 Sneak Preview This picture of the park's Honor Wall is intentionally fuzzy because it's a sneak preview, taken in May, while the tiles were being installed. The tiles, many of them honoring more than one area service person, will be officially unveiled during a ceremony at the park on Saturday, May 29. The tiles are from the first batch of orders, which occurred last November through December. They were installed in mid-May. While the east side of the Honor Wall looks pretty full, there is the west wall to fill and, if that side also sells out, the Park will build additional Honor Wall capacity.
Tiles may be ordered to honor any service person, whether living, deceased, or engaged in active duty. For information on costs, order dead- lines, and to receive an order form, contact Ray Kangas at 715-372-4654 or Joyce Ciembronowicz at 715-372-4324.
At ATPVP,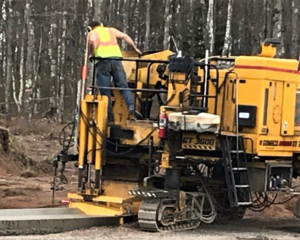 Spring's Biggest Construction Project So Far ~ Curb and Gutter!
As this edition of the Across The Pond Veterans Park News Update goes out by email, the weather hasn't cooperated for pouring a sidewalk leading from the park's central area and extending to the end of the parking lot.
Nonetheless, as you can see by the picture below, the curb and gutter is done.
After laying out the project, grading the land, making precise measurements, and creating and placing strong forms to hold concrete as it pours. . . at last, the park has 570 linear feet of curb and gutter!
Pictured (right) are the equipment and crew from Chippewa Concrete, Inc., of Chippewa WI.